Staging a Miracle: An Interview with Jason Eden
03/09/11 12:45
I had the privil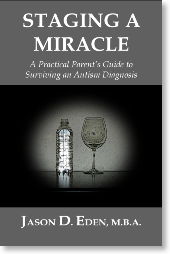 ege of speaking with Jason Eden, the author of
Staging a Miracle: A Practical Parent's Guide to Surviving an Autism Diagnosis.
In this interview, Jason discusses his journey from diagnosis to treatment and ultimate success with his son. He offers much valuable advice to parents of newly diagnosed children, as well as those advocating for their children in the school system.
From the shock of diagnosis, the search for treatment, the logistics of setting up and administering a treatment program, to the advocacy responsibilities, if you are a parent at the very beginning of the process, think about this book as a shield of armor to protect you against whatever may come your way.
Enjoy!