Fears about children with autism wandering off have kept many a parent awake at night. When you have a child who wanders, or in some cases i
t may b
e more accurate to say is an "escape artist," as long as the child is in your care you can create a safe environment with locks on windows and doors and alarms that sound any time someone opens a window or door. Thousands of parents have created the equivalent of Fort Knox in their home and have trained everyone in the child's orbit to ensure that the child does not leave. Parents are generally vigilant and the child is safe. Some parents have even elected to have a
tracking system on their child as a last resort.


The issue that keeps almost all of us awake is when our child is in the care of the school. Unfortunately, most children with autism in typical classrooms do not have locked, fenced school yards and enough supervision to keep these integrated children safe. The schools are very quick to defend their purportedly safe environments even when a parent sees all the gaping holes in security around the school. If the parent gets too pushy, the school bureaucracy often defends their lackadaisical stance and becomes aggressive with parents, possibly invoking the nuclear option by saying:
"if this school is not secure enough for your little Johnny, then perhaps we need to reevaluate whether your child should be integrated."
Since so many parents are fighting for mainstreaming, this ends the discussion immediately and is one of the major motivations to get
"lawyered up
." Some parents just give up and accept segregation due to the safety concerns.

Since the parent cannot rely on the school to protect the physical safety or their child, the next fight is to require one-on-one supervision in the school yard. The school then typically deploys the "buddy" system where they get older children to "supervise" the autistic child even in elementary school!

I came across an
article by Amy Daniels, Ph.D., an Autism Speaks health policy researcher
, who gives an in-depth analysis of autism and wandering. At the end of the article she says: "The time to develop solutions is now." I couldn't agree with her more.

Here's my solution. Every school yard needs to be 100% secured with high fences and
no
way to get in or out from the school compound. All exits from the school need to be monitored every day, all day.

With the number of children afflicted with autism growing, every school will have to be secured. Not only will this help children with autism, it will also help
all
children remain safe and give every parent a better night's sleep.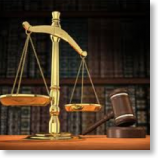 Lawyers seem to be the latest target for lawmakers, and it is certainly easy to get in line and demonize this profession; however, let's reflect for a moment, as parents of children with autism, and ponder whether it is wise to attack lawyers.
Read more...